Birding in North Alabama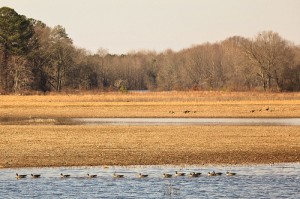 Wow, I really haven't been doing a whole lot of blogging lately. Got to do better!
For starters, I am working on a great new project: developing and implementing a series of birding trails around Alabama. Working with the University of Alabama's Economic Development Center, I'm helping the Alabama Tourism Department and the Department of Conservation and Natural Resources continue the process of developing 8 birding trails. Four of the eight trails have been developed. The other four are in varying stages of development and we're working to combine them all into a statewide series of trails that can be marketed individually and together.
Long story short, we (someone with the University and I) took a trip to Decatur, AL last Monday to meet with some folks up there about their established birding trail and, on the way home, stopped at the Wheeler Wildlife Refuge just south of Decatur on Hwy. 67. Ann and I have been talking about going there for years and just never made it. In just a short time, we saw hundreds of Sandhill Cranes, all sorts of ducks and numerous other waterfowl. So many birds that I rushed home and Ann and I went back this past Sunday. Sadly, most of the Sandhill Cranes were gone, but still got to see loads of waterfowl.