I Miss You Mama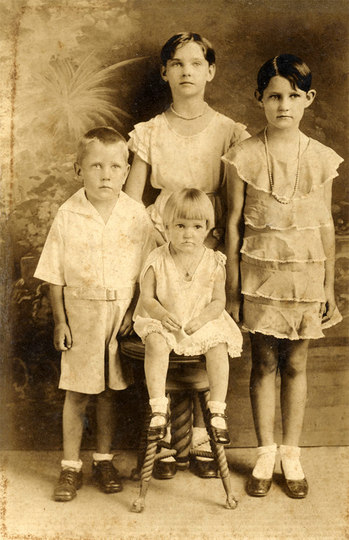 In keeping with my yearly posting on this date (March 3), here's a letter my mother sent me nearly 15 years ago. Here's a link to my original posting 3 years ago. Here are a couple of videos of my Mama telling stories (she would give me a shake of the head for posting these, but I can't help myself).
Mama died 4 years ago. I miss her so much every day. Photo at left is (from left to right) Bud Hinson, Phebe Hinson (seated), Sadie Lou Hinson (in the back), and Inez Hinson (my Mama).
Here's the letter she sent. The stationary she refers to was some she had printed with my Birmingham-Southern college address at the top. She trimmed each piece with scissors because she hated to waste things!
Dear Joe,
Recognize this stationary? It's your B'ham-Southern with a crew cut! It's just my nature to salvage.
I'm enclosing the article about Emory Cunningham–you need the background of those for whom you work. He's also a trustee of Auburn and is on the advisory board of U of A. He worked through the ranks of Progressive Farmer. You can read all about it. I did include the entire article as Laura Drinkard has two honors: Blue Key National Honor Society and Mortar Board.
I'm sending a little money. This you should "let be" to help with your change in May should you not still be with Southern Progress or should you get a permanent job, it could be used to improve your mode of transportation! Just be patient and all will work out.
The other article is about the park near Jasper. It's a TVA financed thing–Foster Falls. It is the southern trailhead of the 12-mile Fiery Gizzard Trail–from the waterfall near Jasper to Tracy City. Are you familiar with this area? It does sound interesting. I believe I could walk 12 miles!
Hope you are doing well–it was good to see Margaret and I did enjoy hearing things about William. He's a dear and you should make time to spend with him while he's growing up and he will adore his Uncle Joe later in life. Otherwise there will be nothing to connect. See how Stacy adores you now? It's because she grew up around you and you always spent time with her. She had prom Saturday night.
I must get back to the bank and post office–reluctantly.
With dear love to you,
Mama
April 15, 1996
I love her letters. She was always filled with cautious optimism, always shared information about home, tried to identify things I'd enjoy (and she LOVED mailing me clippings from the newspaper) and offering advice, all without being a hovering mother.